ขาตั้งกล้องระดับโปร แข็งแกร่งทนทาน ทำจากอลูมินั่ม แม๊กนีเซียม ไททาเนี่ยม อัลลอยด์ A.M.T.พร้อมหัวแพนSlik Tripod Pro 330EZยืดสูงสุด 1575 มม.กางราบต่ำสุด 285 มม.
วัสดุจากอลูมินั่ม แม๊กนีเซียม ไททาเนี่ยม อัลลอยด์ A.M.T.
พร้อมหัวแพน ทำให้ใช้งานได้ทุกสถานการณ์
ยืดสูงสุด 1575 มม.
กางราบต่ำสุด 285 มม
หัวบอลขาตั้งกล้องแข็งแรง มีที่จับแน่น
กางขาราบถ่ายมาโครได้
พับเก็บแล้วพกพาได้สะดวก
The Slik Pro 330EZ Tripod is built with Aluminum-Magnesium-Titanium alloy (A.M.T.) which makes the Pro-330EZ tripod rock steady, yet lighter than it looks. The A.M.T. alloy has a 40% greater strength to weight ratio than standard aluminum. This means that the legs are lighter, yet stronger than the standard metal used in most of today's tripods.
The included E-Z head is a 2-way pan head that has traditional all-metal construction with simple sturdy one lever operation. When released, the head can move in two directions: it can tilt up and down, and pan left or right. Its single rubberized handle controls all movement. These directions of movement make the head an ideal choice for long telephoto lenses, like 300mm f/2.8, 400mm f/5.6 or 500mm f/4.5, or spotting scopes.
Tension-controlled, rapid-sliding center column
3-Position leg locks allow for leg openings of independent angles
Maximum upper leg diameter of 27mm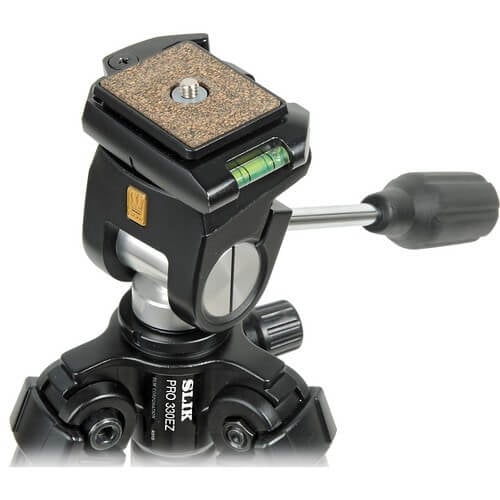 In The Box
Slik Pro 330EZ Tripod with 2-Way Pan/Tilt Head (Black)
Slik Quick Release Plate for DQ-20 Q.R. Adapter, SH-704E & AF-1100E Head, Sprint Pro Tripod with 3-Way Head